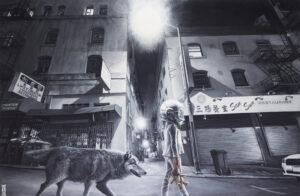 On February 6th at Luna Rienne Gallery in San Francisco I'll be returning for my first solo show since 2017 with "Dream State". A combination of "Nocturnal Encounters" where the Li'l Dreamer meets single animals in the void on smaller panels and larger canvas pieces with more action in urban California.
It's all masks these days!
Opening reception by appointment this Saturday 4-7pm
Contact the gallery for appointment bookings
lunarienne.com
3318 22nd St.
SF, CA 94110