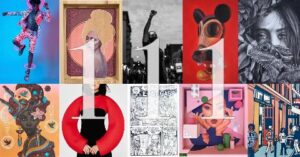 111 Minna Gallery in San Francisco is a very special place. Moving here ten years ago it was already an institution in my mind having seen it's name attached to amazing show after amazing show in the art magazines and blogs of the time. Since then I've graciously soaked in it's cultural contributions in person and the times I've been fortunate enough to show my own work there have marked crucial moments in my art journey.  There's a real feel walking through those iconic red doors and that rich legacy is made possible by an amazing group of people who make the place feel like a big family.
This week begins the 111 Minna Fun-Raiser a 3 Day festival with four big shows and events to support the gallery and get back to showing great art.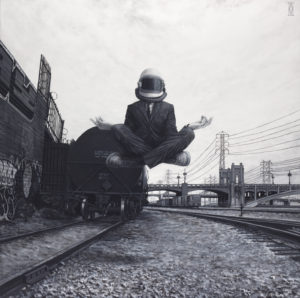 "Rumble In The Jungle"
acrylic on linen
24″x24″
I'm thrilled to include my painting "Rumble In the Jungle" in The Return a huge group show curated by Wonderland SF with a live walkthrough of the gallery hosted by Rob Casanovas on howlive.tv at 6pm on Friday August 7th.
All artwork on sale at 111minnagallery.com
Show runs through September 25th 2020
Last Gasp group show livestream Thursday August 6th at 5:30pm
Saturday August 8th livestream including the show In the Moment: a Black Lives Matter Photo Exhibition
"The Return" Facebook Event page
111 Minna Fun-Raiser Event Page